Click here to get your 50% bonus

  [Special offer from our sponsor Worden TeleChart2007/StockFinder for Trading to Win team members]
In addition to your TeleChart software, the massive 25 year databank, and the 2-second scans, you get convenient web-access to everything listed below. It's a one-two punch that users are loving:
Peter and Don Worden notes, charting lessons and trade candidates
Daily Worden Report
Monitor up to 100 price, condition and trendline alerts in real-time
Faster, large, ad-free charts
Online scanning & sorting
Online databank of Morningstar fundamental criteria
New: Special situation video-alerts from Peter Worden
Right now, you can get all of it for less than 58 cents per day!
But you only have 3 more days to get the 50% Bonus Discount. The sale absolutely expires this Monday, January 25th.
My brother, Peter and my dad, Don Worden are busier than ever finding opportunities for you in this very active market.
No risk for 90 days and never a contract
Enjoy it all for the next 90 days, the software, the website and the Worden reports & lessons. If you aren't ecstatic with this new package of services, call 1-800-776-4940 for a full, cheerful refund. If you continue, you'll have the peace-of-mind knowing that you are locked in at the lowest possible rate and that you can still cancel service at any time and receive a full refund of unused months. We don't play games. If you cancel after six months, you get half your money back the same day that you call. That's how we do business.
I hope you take advantage of the 50% bonus and 90 day no-risk trial period. I look forward to having you back onboard. This time, we're going to work really hard for you and make sure you don't leave again.
Best Regards,

Christopher D. Worden,
President Worden Brothers, Inc.
PS. When you choose a rate from the table below, we'll auto-renew you at this rock-bottom discounted rate for as long as you remain an active customer. Don't worry, we'll always notify you before auto-renewing. You can think of it as a lifetime low-rate guarantee. It's simple, our best customers deserve our best deal for life.
Use the table below to calculate your savings, then call 1-800-776-4940 or order online today: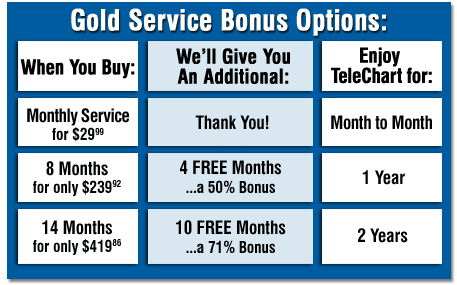 click here to order onlineTeleChart Gold sale ends Monday, January 25th.
"Because my job requires much brain power in the day, that when I come home it's difficult to review the market. This is why I love Telechart... your notes are clear, concise, and on point. Thank you for making a confusing mess a less-confusing mess." –GD, Evergreen, CO
"Your product truly rocks!! Love the graphics, intuitiveness, ease of use, and features."
"Am a big fan of your nightly notes, not just for your interpretations, also for the chance to see how someone else thinks, puts a picture together. It helps us to learn to think differently, expand our horizons." –SD, Sag Harbor, NY
"The fact that you offer free instruction and FreeStockCharts.com tells me you are truly interested in customer satisfaction and success rather than just profits. There are so many companies that sell their products, then don't provide support or charge more for support than the products, which indicates these companies don't care about the success of their customers. It is great to see a company with old fashion customer values."
  –SM, Steamboat Sprgs, CO
"FreeStockCharts is a killer app. Congratulations. This is world class. Wow!"
  –MP, Island Falls, MN
"I was watching the currency charts last night and they were keeping up with the Asian market great asset!" –BH, Ventura CA
"Every night now I find myself anxiously waiting for your comments like a dedicated disciple! I love your comprehensive evaluation and enjoy every sip of the wines you serve!"
  –MA, Naperville, IL
"Peter Worden is the 'James Bond' of technical analysis..." –WM, Warner Robins, GA