Worden StockFinder unadvertised sale is on now   (please, mention AF CODE #638 when ordering (it does not cost you extra, but Trading to Win will receive commissions)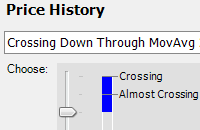 Define your Conditions
Choose from a Library of Conditions or create your own using the ultra-simple Condition Wizard. It's the way you've always wanted to do it. Click on any indicator on the chart and choose from a menu of actions (ie. crossing up, above, at new high, moving fast, etc.). Anybody can do it. For unlimited power, write your conditions in the built-in RealCode programming language.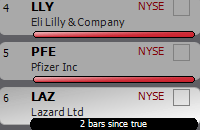 Find the stocks
One-Click on any condition to start the real-time scanner rifling through millions of ticks. As stocks pass your conditions, they light up and sort to the top of your watchlist. The price graph is historically painted making it easy to spot past occurrences of your conditions and evaluate how your strategy has worked over time.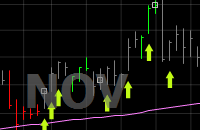 Profit
There's nothing more to do but sit back and watch as the scanner continuously monitors the real-time ticker stream for trade opportunities. As new stocks pass your conditions, they immediately move to the top giving you the edge to beat the market at that exact moment.
What's New in StockFinder 5
Simplified User Interface: Reduced the overall number of steps to perform common functions.
Faster Market Databank: Compare a 1 minute scan in version 4 to mere seconds in version 5.
Powerful new "one click" scanning and painting of conditions: find and highlight conditions that are passing right now
New Condition Scanning: Find the newest stocks passing a condition & stocks that have been passing it for the longest time.
Savable Conditions and Indicators: You no longer need to save an entire chart
New Filter Engine: Filter WatchLists on multiple conditions and time frames
New Drawing Toolbar:  Drawing tools have never been easier to access with the drawing toolbar.
New Global Drawings:  Drawing tools now save by symbol so you can view your drawings from any chart
New True Markers: Show conditions directly on the chart with a myriad of display options
New Paint Schemes:  Save conditions into paint-able entities that can be applied to any indicator
New Market Replay Tool: Play the data feed back at half speed or x30 speed for daily or intraday data.
New RealCode Functions: Average, Stochastics and a host of other child functions can be called directly in code.
New RealCode References: Indicators and conditions directly from the library
New Web Browsers: Create your own web browsers and link to the active symbol
 

 

 

 

 

StockFinder 5 is the best software ever for trading!

- L.A. Chicago, IL
StockFinder 5 is impressive for screening and finding stocks for specific criteria.

- V. Arora Chicago, IL
Very Satisfied, Great Software!

- F. G. Phoenix AZ.
StockFinder 5 is an outstanding tool that will improve my stock selection and save a tremendous amount of time doing it.

- D.R. Las Vegas, NV
The software speaks for itself, it's outstanding!

- A.S. Las Vegas, NV
[StockFinder] version 5 is a big leap forward.

- M.K. Los Altos, CA